︎︎︎MARCH 31 - 6:00pm - 10:00pm
︎︎︎APRIL 1 - 11:00am - 3:00pm


APAPACHO x SSSOAPS

︎www.apapacho.world
︎www.sssoaps.co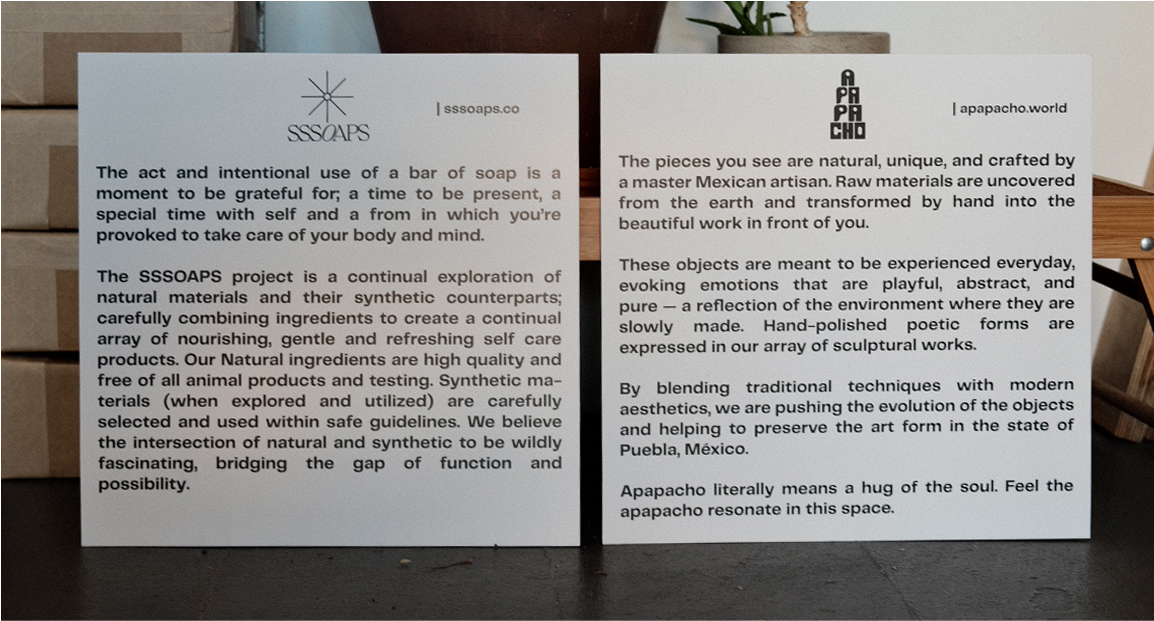 APAPACHO

The pieces you see are natural, unique, and crafted by a master Mexican artisan. Raw materials are uncovered from the earth and transformed by hand into the beautiful work in front of you.
These objects are meant to be experienced everyday, evoking emotions that are playful, abstract, and pure — a reflection of the environment where they are slowly made. Hand-polished poetic forms are expressed in our array of sculptural works.
By blending traditional techniques with modern aesthetics, we are pushing the evolution of the objects and helping to preserve the art form in the state of Puebla, México.
Apapacho literally means a hug of the soul. Feel the apapacho resonate in this space.
SSSOAPS

The act and intentional use of a bar of soap is a moment to be grateful for; a time to be present, a special time with self and a from in which you're provoked to take care of your body and mind.
The SSSOAPS project is a continual exploration of natural materials and their synthetic counterparts; carefully combining ingredients to create a continual array of nourishing, gentle and refreshing self care products. Our Natural ingredients are high quality and free of all animal products and testing. Synthetic materials (when explored and utilized) are carefully selected and used within safe guidelines. We believe the intersection of natural and synthetic to be wildly fascinating, bridging the gap of function and possibility.